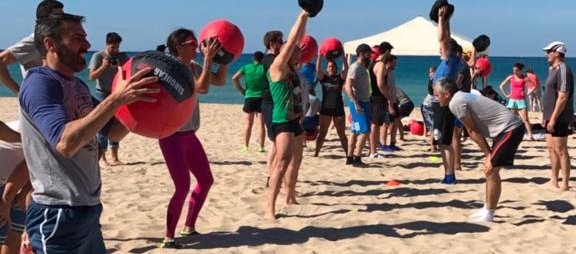 Crossfit is a discipline the purpose of which is to improve your physical shape: cardio, muscle resistance, strength, flexibility, power, speed, coordination, agility, balance and precision. It focuses on a balance between all these qualities, so it is practised by many mountain climbers, hikers, triathletes, long distance runners and mountain runners who want to be in good shape for their competitions. 
It is a discipline based on the repetition of high intensity movements aimed at the improvement of power. But you only need one thing to practise it: good will to surpass yourself every day.
You do not compete with anyone, you just need to improve your mark. CrossFit in Mallorca is the latest fashion in sports. 
It is not an easy discipline, but you do not have to practise it on your own: a trainer will be helping you at all times. He sets your objectives, helps you do the exercises and activities and stays with you until you get your aim. 
At Houm Hotels we are aware of the importance this new discipline is gaining among sportspeople. We agree with its main principles of effort, personalised attention and balance. That is way we collaborate with True Love Crossfit, an official centre of Crossfit in Mallorca located only 3 km from Plaza Son Rigo Aparthotel and Nets Hotel. If you practice triathlon, climbing, hiking or running we recommend you try crossfit. If you are not used to those sports, we suggest you start crossfit as your regular sport. 
You will not regret it.