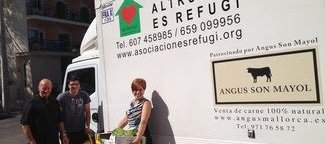 With 50 years of experience working in the tourism sector of Playa de Palma, it is hard not to establish relationships with the Majorcan society, as the evolution of tourism has come together with the economic, industrial, technological and social development in Playa de Palma. 
There are many hotels compromised with the environmental sustainability and in Houm Hotels we implement initiatives for the preservation of the Mediterranean woods that surround the resort of the Plaza Son Rigo Aparthotel, which are a focal area for birds' migration. 
But we are not just compromised with the environment, but also with the solidarity with the immediate surroundings. 
This compromise of Houm Hotels and of other hotels in Playa de Palma has been sealed with an agreement with Es Refugi, one of the most active non-profit organisations in Majorca. With this agreement, different hotels will donate a specific amount of food for this association, which will distribute it among its users, either in welcome centres or in its community pantry. 
It is an honour for us to participate in these type of initiatives: few help from many people can do a lot for many.
For more information check out the news on Europa Press.