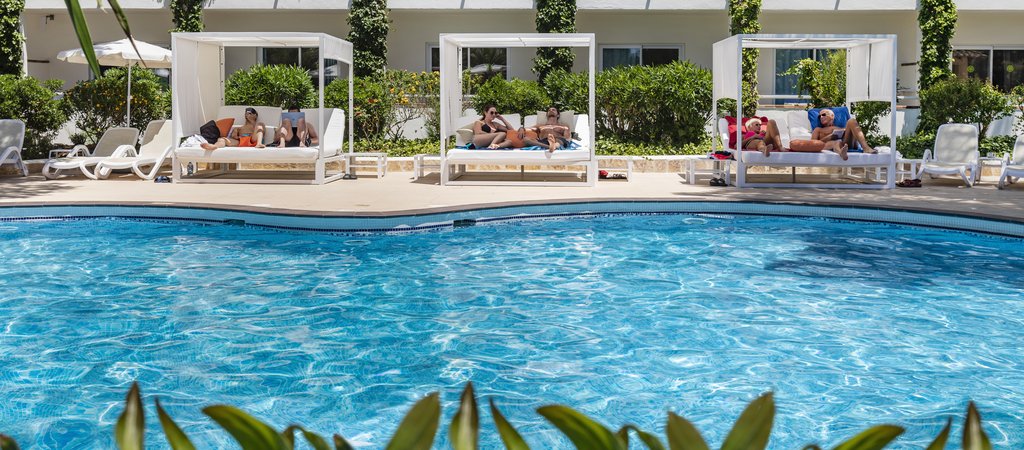 Today we would like to share some of the reasons many of you visit us year after year and give meaning to our work.
- "It is an Oasis in Playa de Palma, surrounded by centenary pine trees and a large garden".
- "The views are spectacular".
- "The location on Playa de Palma, next to the airport and a few kilometers from the city is excellent".
- "The staff make you feel at home! They are professional and very friendly. You check in as a customer and leave as a friend".
- "There is always room available in the hammocks. The 3 pools in the complex along with the children's pool, and the heated one are ideal! One for every mood and moment of the day".
- "The atmosphere is very pleasant and the Mediterranean decoration is very cozy".
- "The Chef delights the younger children and the older".
- "The cocktails are delicious! And being able to enjoy it in the pool only makes you think… "Oh, the suffering…. xD ""
- "The renovated apartments have everything you need to spend the holidays with the family".
- "They are always attentive to what you may need, and resolve matters in a very professional and efficient manner".
- "It's the perfect combination of quality and price… there is so much to offer and enjoy in this great complex on Playa de Palma!"
Thanks for all your beautiful words! We love to read you and know your opinion! And of course, we are waiting for you one more year at the Apartahotel Houm Plaza Son Rigo to continue giving you the best service!