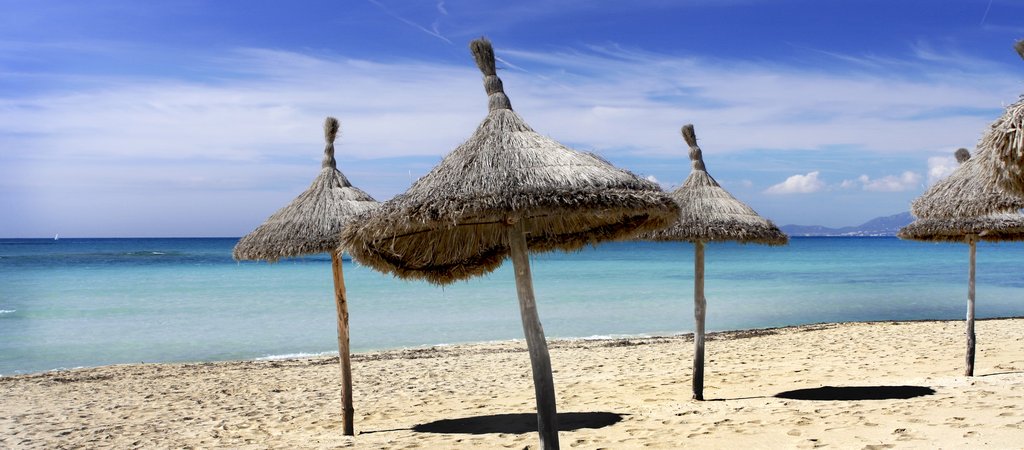 Playa de Palma is the touristic area closest to the airport, just 5km away, and is made up of the neighbours of Can Pastilla, Platja de Palma, s'Arenal de Palma I s'Arenal de Llucmajor. Walking along its 5km of white sand you can discover all of them.

The first rays of sunlight peek behind the housing buildings and spectacular hotels of Playa de Palma and give color and warmth to the sand. You breathe tranquility, smell the sea, and the early risers take out their sports gear and jump into the morning race and workers start to open their businesses. In these moments the sea is still calm and enjoying a walk along the shore, with the beach just for yourself or sharing it with your family and feeling the freshness of the sea is a must of your holidays.
A few hours later, after the morning shower and breakfast, the beach begins to come alive: people spread out their towels to enjoy the sun and the beach, the bars and shops are ready to offer everything you need and the public buses begin to fill up to take visitors to one of the most beautiful cities in Europe: Palma. Just 10 km from the Playa de Palma we find La Seu Cathedral with its huge Gothic style rose window, as well as other essentials that our ancestors from different cultures have left us: the Arab baths, the Jewish district of the trades, ... If culture is what you are interested in, the Museu es Baluard and Casal Solleric are the main references; and if your interest is shopping and leisure, you can delve into the streets and crossings of the center to find the best clothing store and a spectacular coffee shop.
At midday the most characteristic breeze of the beach begins to be noticed: the Embat. This wind that helps cool the hottest days lasts until sunset. At this moment there is no choice but to enjoy one of the most beautiful sunsets on the island, with the sun hiding behind the Serra de Tramuntana in summer, and entering the sea in winter.
Now is time to enjoy the night and the whole boulevard is gets ready. The lights of the promenade are lit to enjoy a pleasant walk, the bars and restaurants begin to play music and all visitors and residents enjoy their leisure time with Playa de Palma as a stage.
Sleeping time is approaching, relax in the apartment bed and do not think about anything else than to see that color of crystal-clear water on your next day of vacation.